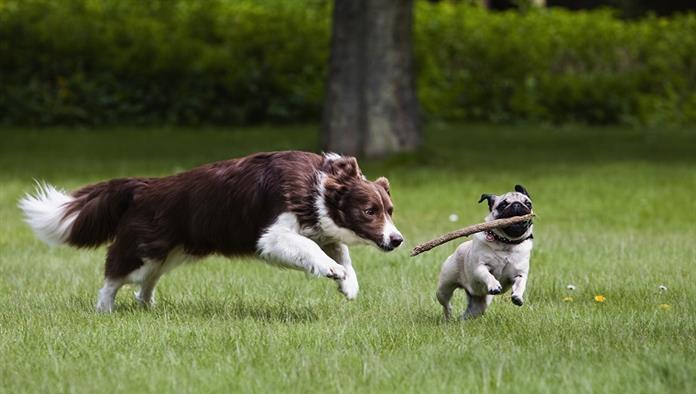 Does your dog have other dog friends? (Picture Credit: Getty Images)
Your dog probably enjoys your human companionship more than anything in the world, but sometimes it can be fun for our pups to have other dog friends to play with.
Interactive play between dogs can be mentally stimulating and provide physical exercise, which can reduce anxious or destructive behavior around the home.
It can also help your dog develop their socialization skills so they know how to behave around other canines. Having dog friends for your pup can benefit your own social life, too, as it will give you the chance to hang out with other pet parents, and since they love dogs as much as you do, you already have something in common.
Helping your dog make other dog friends can be great for everyone involved. Here are a few tips for growing your dog's canine social circle.
1/6


Socialization Training, First & Foremost

(Picture Credit: FatCamera/Getty Images)

Dogs have social rules, just like humans do. Puppies often start learning these rules by interacting with their mother and siblings, but it's important to continue that learning process as puppies grow to adulthood.

A socialization training class is a great place to start, as you can rely on the expertise of professionals while meeting other dog parents and pups who can potentially be good friends with your dog.

Imagine trying to make friends when you don't understand proper manners, body language cues, or how to express your needs and wants in a healthy way. It would be hard for you to do, and it would be equally hard for your dog.

Give them the training they need so they can have good interactions with other canines.

2/6


Meet Up With Friends & Neighbors Who Have Dogs

(Picture Credit: Getty Images)

Once you trust that your dog has the skills necessary to have good relationships with other dogs, it's time to start picking friends.

If you have human friends, neighbors, or relatives who also have dogs, and you know that those people give their dogs the same care and training that you do, set up a play date.

First-time meetings should take place on neutral territory, like a park or a dog beach. Neither dog should feel like they have to defend their home from a potential invader. Let the dogs play, and see how they react to one another.

Enjoy catching up with your human acquaintance, but don't stop supervising your dog's play time. You never know when things might get out of hand, and you'll need to be ready to step in.

If all goes well, set up more play dates and let your dog's friendship grow.

3/6


Head To The Dog Park Or Beach

(Picture Credit: Dean Forbes/Getty Images)

If your dog is ready to meet other pups, take a trip to a place where dogs gather in a comfortable, playful setting. Dog parks and dog beaches provide an opportunity for your dog to make new friends while you get a chance to meet other pet parents in your area.

Of course, always supervise play time.

If your dog takes a particular liking to another pup, try to say hello to the other dog's human companion. Get to know them. Maybe if you see them regularly, you can set up a play date.

Then you can each go home with a happy, tired dog at the end of the day.

4/6


Give Doggy Daycare A Try

(Picture Credit: Getty Images)

Some dogs absolutely love doggy daycare, and if you have to be away from home for a while during the day, it's a great way for your dog to burn off energy with other pups.

Many doggy daycares will give you progress reports on your dog and let you know if there are any other pups that they've taken a liking to. That can be a good opportunity for your dog to pick their own friends.

Talk to other pet parents when you pick up and drop off your dog. See if any of them are interested in giving their dogs a chance to hang out, too.

5/6


Approach Other Dog Parents Respectfully On Walks

(Picture Credit: CBCK-Christine/Getty Images)

When you're walking your dog, it's important to follow proper dog walking etiquette.

Your dog should always be on a leash. Dogs who have red or yellow leashes — or red or yellow ribbons tied around their leashes — require distance, and you should not approach them with your dog.

For all other dogs, always ask permission from the dog walker before allowing your dog to interact with their pup. If you get the okay, let your dog make a new friend. Talk to the pet parent. See if they walk in your area often.

This may be a chance for you to meet a fellow dog lover who might be willing to set up a doggy play date later.

6/6


Throw A Dog Party

(Picture Credit: Getty Images)

Now that your dog has started to make some new friends, consider hosting a small get-together with other dog parents. They might appreciate the chance for their dogs to make even more friends, too.

There are plenty of party games for dogs, and so many occasions to celebrate. Just make sure that everyone knows they are still responsible for their dog's behavior.

When your dog is tired out from a vigorous play session and less rowdy around the house, you'll know that all your efforts have been worth it.